We've got new shows joining RecruiterZone in the next fortnight including a regular "Hangout" where recruiters can chat informally about any subject they like.  Also Katrina and Audra will be back with their Friday #SocialRecruiting Show really soon.  In the meantime these two shows are happening next week and you can sign up right now: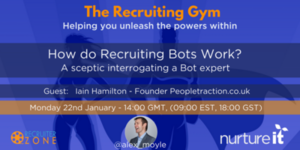 Monday 22nd Jan – Does Recruiting With Bots Work?

In this show, Alex Moyle is joined by recruiting bot expert Iain Hamilton. As founder of People Traction, he believes that bots are the future of recruiting.
The questions he will be asking are:
– What is a Recruitment Bot?
– How do bots work?
– How can Recruiters integrate Bots without losing their 'humanity'
– 3 Reasons why bots are great news for agencies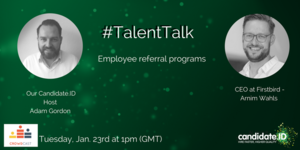 Tuesday 23rd Jan – #TalentTalk: Employee referral programs
In this TalentTalk Adam Gordon is joined by Arnim Wahls, CEO of Firstbird, Europe's leading employee referral program to talk about the how and why of employee referral programs.
Arnim will be providing tips and tricks on how to implement a powerful referral program as well as talking about the major success drivers.
Join our Facebook group to talk about any of the shows, put yourself forward as guest or suggest a topic.
PS, please do suggest any friends or colleagues sign up to regular show notifications too.