On RecruiterZone we have three great shows coming up over the next 10 days; you can sign up to all of them right now:
---
Tuesday 13th February – #TalentTalk: Onboarding – why it should be one of the top organisational strategies (yet only 9% of Orgs are nailing it!)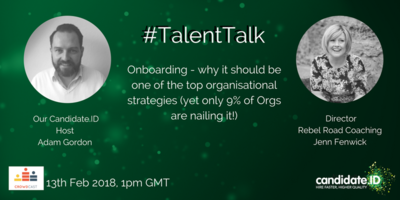 90% of employees will decide to stay, or go, within the first 6 months of starting with your organisation.
Competition for talent is a significant challenge for organisations – huge amounts of time, money & effort are dedicated to finding & hiring the right people, which makes the fact that around 33% of new hires leave within the first 6 months, a crazy thought!
Adam will be joined by Jenn Fenwick, Director of Rebel Road coaching to discuss how you can start your employees off on the right foot.
Jenn is a Career Transition & Onboarding Coach with a special interest in Onboarding Leaders and preventing employee burnout. Having spent 14 years supporting start-ups through to Fortune 500 organisations with Talent Attraction and Career management strategies, she has seen first-hand the challenges faced in finding and retaining top talent.
---
Friday 16th February – The #SocialRecruiting Show Ep. 76: Small Things That Wow Candidates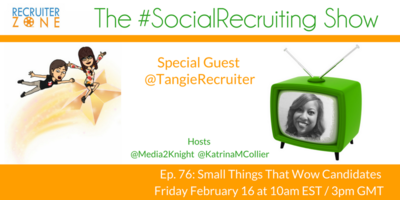 Katrina Collier, Social Recruiting Trainer & Keynote, and Audra Knight, Employer Branding Nerd, chat to Tangie Pettis, Talent Acquisition Manager, about small things that you can do that make candidates feel special & stay in the process!
---
Monday 19th February – 3.5 misconceptions about GDPR for Recruiters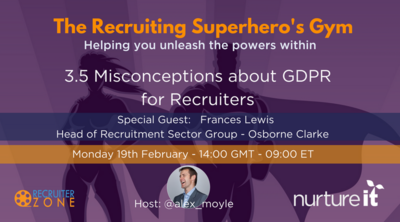 It is less than 6 months until GDPR becomes law.  There is an unending stream of blogs and whitepapersgiving advice on how to become GDPR compliant – typically from solution providers claiming to have "the answer".  In time, tested solutions will evolve but for now, there is no one size fits all – all recruitment businesses are heavy users of personal data, using data in a range of different ways.  100% compliance is unrealistic and the ICO is not expecting this: prioritising key compliance measures is crucial at this stage.   Compliance outputs (such as new privacy notices and contract updates) need to reflect how each recruiter collects, uses and retains data. Short circuiting this data analysis process is likely to prove a false economy in the long run.
"Noise" in the market is leading to an increasing number of misconceptions about what GDPR actually means for recruiters, including:
I need to obtain consent from all those whose details I hold in my database
I can rely on LinkedIn's or other jobsites' data privacy notices to lawfully process candidate data I download from those sites
The CRM can deliver full GDPR compliance
My recruiters will not have to change how they work.
Misinformed "advice" is leading some recruiters to develop compliance programmes based on wrongful analysis and assumptions. As a result many are unworkable, leaving the business exposed to GDPR risk.  In our second GDPR Webinar with Frances Lewis from Osborne Clark, we will dispel some of these misconceptions.  Why will this webinar be different from all the others?  Becuase, we have no GDPR solution to sell,
Our goal…….to help recruiters better understand what it means to them and focus their GDPR projects in an informed way.
---
Join our Facebook group to talk about any of the shows, put yourself forward as guest or suggest a topic.